Treasure Montessori Shelf
Child-friendly and safe
Designed for children's eye level
Made from pure, sustainably sourced hinoki wood
In stock. Delivery time: 3-4 weeks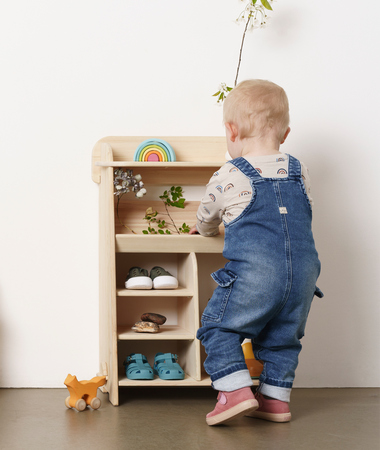 Designed with young children in mind, our Treasure Montessori Shelf offers a space to foster independent organisation and creativity. Shoes or other prized possessions can be displayed at their eye level, encouraging them to make their own choices and helping to build confidence. The upper shelf can be used in a number of versatile ways – from showcasing foraged outdoor 'treasures', to creating seasonal displays, or simply storing hats, sunglasses and other accessories. Made from untreated hinoki wood, our treasure shelf has a rounded, child-friendly profile and will make the perfect companion for your little explorer. It is particularly ideal for nurseries or a hallway.
Material:

Natural hinoki solid wood (AA grade)

Finish:

Dimensions:

Warranty:

5 years

Care and use

Shipping

Return policy
Features
01

Prioritising health & safety

Handcrafted from pure hinoki wood, which is renowned for its various healthboosting and calming properties, as well as being naturally antibacterial, our shelf unit is the perfect place to store shoes, outdoor accessories and foraged treasures like pinecones, leaves, pebbles and more.

02

Child-friendly & ergonomic design

Ergonomically constructed by our team of design experts, our Treasure Shelf offers a rounded, child-friendly profile, making it the perfect companion for your little explorer.

03

Build it together

Lightweight, smooth and easy to assemble, children can help in the building process, learning along the way. The final result will be their very own piece of furniture to treasure and feel proud of.
Treasure Montessori Shelf
Bespoke options
Add unique designs to any of your custom products and spaces...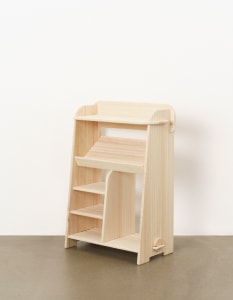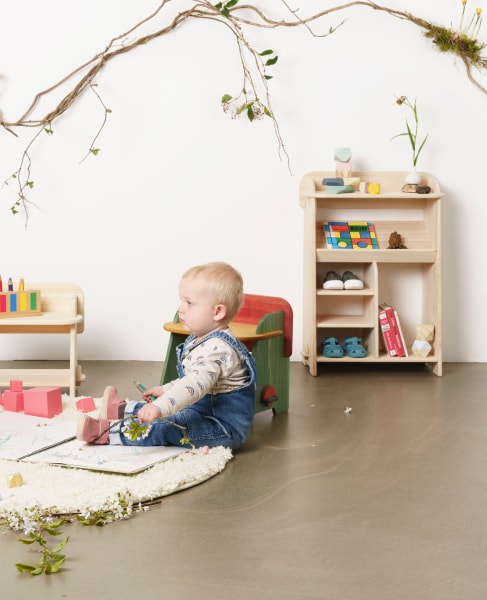 From beautifully designed nurseries and playrooms, to child-friendly public areas, whatever your idea, our team of architects and designers would love to work with you to bring your vision to life.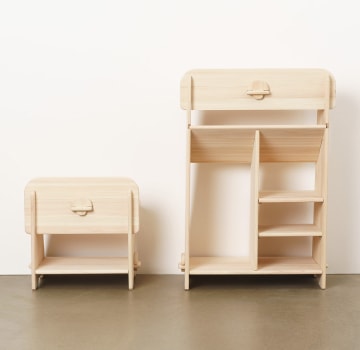 The Aromon Hinoki Seedling Chair exceeded my already high expectations. The first thing you notice when you open the custom box is the lovely clean, forest-like scent. The Hinoki wood is super smooth and of the highest quality. I would recommend Aromon to all families looking for exceptional, heirloom-quality Montessori style furniture.
Kylie @Howwemontessori
Sydney. Australia
01

This is the easiest chair I've assembled in my life, no tools needed. The first thing I noticed upon opening the box is the scent of the wood, so refreshing! The quality is also superb. My son also loves his chair as much as I do. We can use it as an entryway chair or in any part of the house.

Bernadette

NY. USA

02

Very happy with my purchase from Aromon. Beautiful quality and my daughter is very proud of her new chair! It is light enough for her to move around which is great. I've been trying to make our home more toxin-free, especially in our children's rooms, and this is a lovely new addition to the family. Excited to see if this shop expands its range!

Alica

Glasgow, UK

03

The scent from the chair is very refreshing! My son keep smelling his new chair :) He's been busy with putting his precious stick collections under the chair. So happy with the purchase. My son LOVES it!

Christina

London, UK

04

A lovely piece of furniture that will be passed on and loved through generations.

Roisin

Edinburgh, Scotland

05

Our son loves his chair, often moving it around the house with him. He likes to sit on it to take his shoes off, intuitively stashing them and his toys on the shelf below. We love the design, the soft curves and the smell of the timber! It also came beautifully packaged and would make for an excellent gift.

Rupert & Katie

London, UK

06

The Seedling Chair is minimal with a clean and calming design and is super functional for children's spaces. The proportions of the Seedling Chair are perfect for my son. We use the Seedling Chair in our entryway to maintain order and to streamline the process of going out.

Kylie @Howwemontessori

Sydney. Australia